DIY Deco Mesh Wreaths!
YOU CAN LEARN to Make Deco Mesh Wreaths for Home Decor or Even Sell!
Save Money by Making Your Own!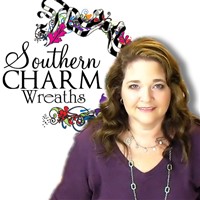 Learn from the BEST!
Julie Siomacco of Southern Charm Wreaths is considered one of the leading designers in deco mesh wreath design.  She has taught thousands her secrets and tips for making jaw dropping and professional looking wreaths EVERY time!  Now she wants to teach YOU one of her most popular wreath styles for FREE!
Tired of spending your hard earned money on poor quality wreaths?
Want to make your home festive for the big game or next holiday?
Interested in learning a creative way to generate extra income?

Then LEARN to make your OWN quality inexpensive deco mesh wreaths?
YOU too can learn step-by-step how to make a beautiful, full deco mesh curly wreath with lots of mesh and ribbons. It is so much FUN and with another holiday just around the corner, your loved ones will surely want a deco mesh wreath designed by YOU.  BONUS:  Once you learn this deco mesh wreath style, you can change up your color combinations for a totally different look! This style is so EASY to learn and it's FREE!
All you need to do to access this FREE tutorial is to enter your name and email address in the form on this page and Julie will send it to you straight away.
Here is exactly what you are going to learn:
Make a PERFECT deco mesh curly wreath using 2 different styles of mesh!
How to save time by cutting your mesh WITHOUT USING SCISSORS!
How to make your wreath look very FULL!
How to add TEXTURE and interest by adding ribbon streamers!
Tips for making your wreath PROFESSIONAL if you do choose to sell!
WHERE to purchase your materials!
Just enter your name and email address in the form to the right and Julie will immediately see you on the other side!
Check out these GORGEOUS wreaths made using the curly mesh wreath method…